Location
We are located just south of Spokane, Washington, just upstream from the Hangman Golf Course. From the Palouse Highway we are 2.1 miles south on Valley Chapel Road. Our address is 13602 South Valley Chapel Road, Valleyford WA 99036
Instructor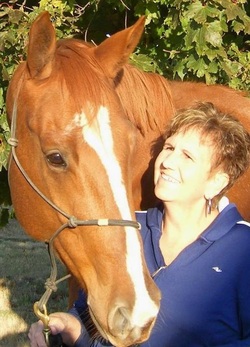 Sally has over 30 years of experience with horses and
training. She has given instruction privately, in groups and in clinic and camp situations in various disciplines including Hunter/Jumper - on the flat and over fences- Western, Showmanship, Equitation, English and Western Dressage, drill team, and ground training. Her students have ranged from the pleasure rider to the competitive equestrian. She welcomes all ages of students.
Sally has successfully trained and competed in Hunter/Jumpers, Stock Seat and Western. Having been a member of a Dressage
Quadrille is one of the many activities she has also enjoyed. She judges shows throughout the Inland Empire and Canada. Sally is also the owner/operator of WhinnyNWoofs, equine and canine massage.
Years of experience, be it working in tack and animal health stores, for a large animal veterinarian, at a racetrack, breeding farms, training farms and with many owners and riders in a variety of disciplines have afforded her the chance
to learn a wide range of skills. Looking to learn from others, be it from a novice or a very seasoned pro, keeps her ever growing within her own horsemanship skills The horses are our greatest teachers, and are always
stretching our abilities as horsemen and human beings. She enjoys working with people and their horses to help them move forward together in whatever path they choose. Learning and growing are the real goals that will continue as long as you choose to pursue this amazing relationship. Sally is ready and willing to help you follow your dream.
For training and lessons contact:
Sally Schiller
509-599-1228
509-922-0308
whinnynwoofs@gmail.com
Lesson Rates:
1 hr Lesson: $30 Current Boarder or $35 Guest
½ hr Lesson: $25 Current Boarder or $30 Guest
*An additional $5 fee will be charged if lesson horse is used.
*All guests must sign a liability release waiver before riding or receiving a lesson.
*Riding helmets are required.
---