History and Philosophy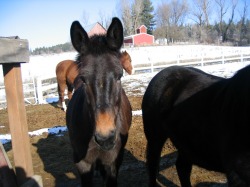 In 2005 we started with a horse named Mocha and two mules, Dixie and Bubbles. We loved them and have been growing and improving our facilities ever since.

Our goal is to be the best in terms of overall value. To achieve that, we do not skimp on feed. We "free feed", keeping grass hay continuously in the feeders. Our feeders minimize waste and the chance of sand colic. In the summer, at the owners discretion, horses have the opportunity to run and graze in 10 acre irrigated pastures. Non-electric automatic waterers provide clean, fresh cool water year round and also contribute to the overall quality of care.

We also believe that horses need room to run and stretch their legs so we designed large pens. While many of the pens have trees, we also provide shelters for shade and cover from inclement weather.

Our customers value the care we take of their horses and the ability to ride in a relaxed, beautiful country setting.
---